And the winner of ONEIL's 2018 Robert J. Heilman Passion Fund Award is…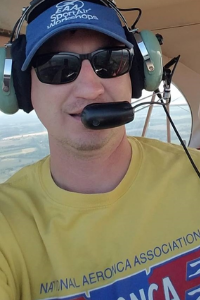 Congratulations, James Wells! ONEIL's Passion Fund Committee is pleased to present its 2018 Robert J. Heilman Passion Fund Award to James, who's worked in our technology group for more than 10 years.
Created in 2017, the Passion Fund serves to honor the legacy of ONEIL's late President, Bob Heilman, by providing a cash award to help fund the passion of one lucky ONEIL associate each year. With a warm demeanor and genuine care for others, Heilman was known for supporting his work "family" and encouraging their successes.
"We're proud to present James with the award, as his vision and dedication are exactly what the Passion Fund stands for. This is a great way to celebrate Bob Heilman's legacy," said Committee member John Stanley.
James was encouraged to apply for the Passion Fund by a co-worker who thought he'd be a great candidate for the award. With nearly 8 years of flying experience under his belt, he's currently working toward his goal of building a composite airplane, which he hopes to complete within 3 years. The $1,200 award monies will help him purchase parts and supplies for the next phase of his project: the fuselage.
And, true to ONEIL values, James has decided to "pay it forward" by donating a percentage of the money to others. He'll be contributing fuel funding to the Daks over Normandy organized paratrooper jump in June 2019, commemorating the 75th anniversary of D-Day.
James has one piece of advice for ONEIL associates who are considering applying for the 2019 Passion Fund Award: Just go for it!