3 parts management problems; 1 intelligent solution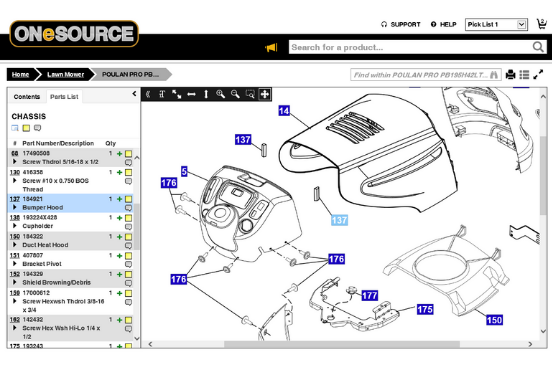 When you're responsible for parts management, you'll likely run into the same data problems time and time again. A bottleneck in productivity can be caused by any number of disruptions—inaccurate data, inefficient processes, and human error are no doubt familiar themes.
With so many moving (literal and figurative) parts to manage, operational malfunction seems unavoidable on the back end, but consumers expect orders will be timely and hassle-free. The last thing customers want to do is call to check on their order status because there's a delay in fulfillment. Ultimately, your organization's reputation—and bottom line—are at risk because of daily inefficiencies in parts management.
Seamless fulfillment requires a proactive approach in day-to-day parts management. After all, preventing these problems is easier (and often less expensive!) than reacting to them as they arise:
1. Parts data is inaccurate, missing, or outdated
When your client's mission-critical equipment is down, it's imperative that you have accurate information on-hand so you can quickly order necessary replacement parts. Keeping this information up-to-date can be a tall order as new models are introduced, updates are made to existing models, and older part numbers are superseded with replacements. Submitting an order with incorrect part numbers will cause delays in delivery and frustration for all parties involved.
2. Business systems aren't integrated
As your business grows, you may find it needs more systems to better support the parts management lifecycle and operate cross-functionally. But if one system doesn't "talk" to the others, you could be setting yourself up for an entirely new set of problems attributed to disjointed data. These integration concerns are especially prevalent when dealing with legacy systems which rarely "play nice with others."
3. Parts content is lifeless
Maybe you're ahead of your competitors and have successfully centralized your parts content by now. But is it inclusive of all data from various sources? Can you link service manuals and multimedia documents to it to facilitate future troubleshooting and training? If the answer to either of these questions is "no," you may not be as far ahead of the competition as you think.
Remaining organized in the parts management field has its challenges, but a centralized system that intelligently manages your inventory's lifecycle in a unified environment can reduce cost, downtime, and confusion. Get in touch with the ONEIL experts to learn more about our ONePARTS™ parts management and delivery system and how it can help your organization continue to delight your customers.