TMC 22 – 3 Things We're Excited to Present; 3 Things We're Excited to Explore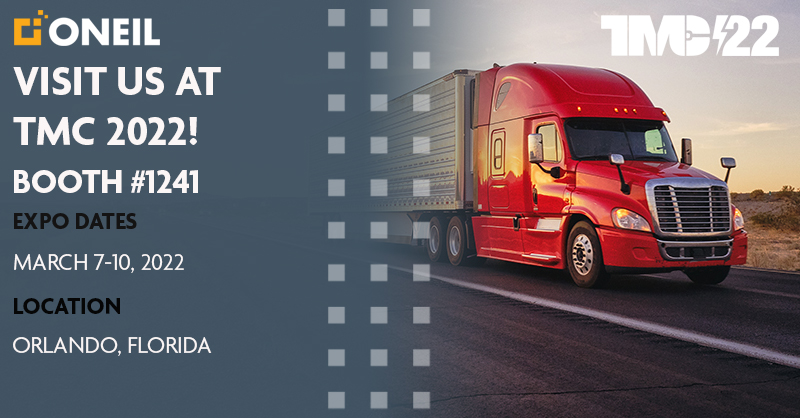 TMC 22, North America's premier meeting for the trucking industry's fleet technology and maintenance management professionals, is here, and we couldn't be more excited. Our events calendar is filling up, and we're focused on sharing what makes ONEIL special with event attendees. TMC 22 in Orlando is first on our list this year, and the theme is "electrifying performance in maintenance management." In this post, we'll tell you about the top 3 things we're excited to share with TMC attendees as well as the top 3 things we hope to experience at the event.
The Top 3 Things We're Excited to Share with You at TMC 22
Training and Certification Capabilities
Ensuring your technicians receive proper training is vital to your success in the current job market. You need to keep your team current with all aspects of training and certification. You can't afford delays due to lack of preparation. Fortunately, ONEIL can help! With ONEIL's secure, web-based Learning Management System, you can provide individualized, self-paced instruction for your learners while seamlessly integrating with existing business systems and cross-functional areas.
Interactive Schematics
Simplify the troubleshooting process for your technicians and reduce equipment downtime with ONEIL's interactive diagram viewer. We enhance your existing electrical, pneumatic, and hydraulic diagrams by adding interactive hotspots for components and tracing circuit flows across entire schematic sets. Like all our software solutions, it's delivered to the secure environment of your choice while offering interoperability with your existing business systems.
Troubleshooting and Diagnostics
If your fleet is stationary due to a mechanical wiring issue, you can't afford prolonged periods of time troubleshooting and diagnosing an issue. ONEIL empowers your troubleshooting and diagnostics capabilities by communicating with sensor networks on your equipment, enabling your technicians to quickly and efficiently diagnose system failure. With our technology, you'll significantly reduce downtime, human error, and warranty costs. Plus, it lets you take a proactive approach to future maintenance by analyzing historical data to automatically capture, monitor, and even predict future performance.
The Top 3 Things We're Excited about at TMC 22
We're repeat attendees at TMC with good reason. The annual event is unique because it brings the latest commercial fleet technology and maintenance management professionals — more than 5,100 of them — together under one roof. It's an excellent way to network and learn with the best. We're looking forward to experiencing:
'Electric and Automated Vehicles' Pavilion
From our Interactive Schematics to our Troubleshooting and Diagnostics capabilities, ONEIL is constantly exploring emerging technologies and embracing new ways of doing things. On any given day in technology news, you'll see a flurry of articles discussing the future of personal and commercial vehicles. We're eager to visit the Electric and Automated vehicles pavilion to see firsthand the current state and future vision of fleet vehicles. Some highlights we can expect according to the event prospectus are: cybersecurity, automated driving and platooning, drone/quadcopter applications for transportation and related specification/maintenance, advanced driver assistance systems, and electric-powered vehicles.
Ride and Drive
This one is somewhat self-explanatory. The ride and drive will give attendees and exhibitors a unique opportunity to experience driving and being on board these state-of-the-art electric and automated vehicles.
Study Group Sessions
With too many to list here, TMC has a packed schedule of study group sessions. More than 150 sessions are planned with topics ranging from "The Ins and Outs of Your Shop: When to Keep Maintenance In-House or Send It Out" to "Effective Training Techniques for In-Cab Devices and Technologies." For presenters and attendees, opportunities abound, and we're excited to be the proverbial sponge, taking it all in.
We hope to connect with you there. If you can't make it this year, we'd still love to hear from you! Let's talk.
TMC 22
March 7-10, 2022 | Orange County Convention Center, Orlando, FL
ONEIL booth # 1241
Related Resources: