COVID-19 Travel Trilogy: Part III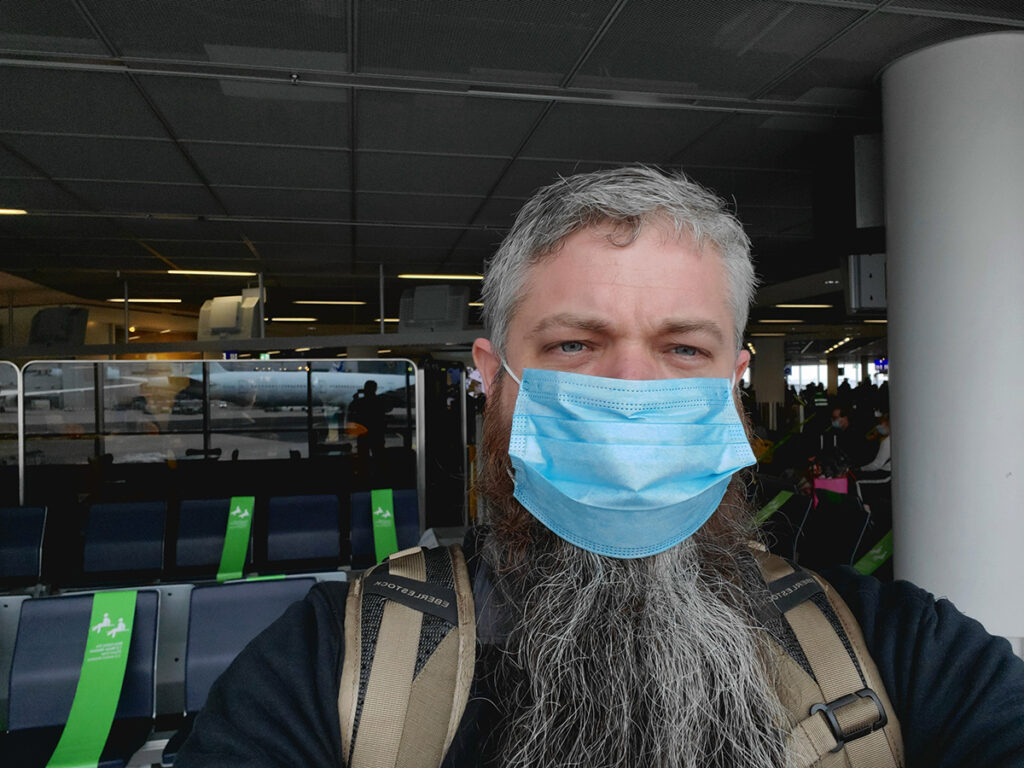 Welcome to our blog series: COVID-19 Travel Trilogy. In this series, ONEIL trainer, Erik Arnold, chronicles his travels to Europe during COVID times to train warfighters on behalf of a long-time ONEIL client during the first quarter of 2021.
Class finished successfully with a 100 percent pass rate! After the short graduation ceremony, we packed class materials, and I headed back to the hotel to  pack for the trip home. I pulled up the airline website to check in, and there was a popup from the airline letting me know of new requirements for travel to the U.S. This included a COVID-19 test within three days of travel (this made it much easier to get the test and ensure its validity for the trip home) as well as a signed Passenger Attestation. The Passenger Attestation is a signed document confirming you have received a negative pre-departure test result for COVID. It also confirms that test was taken within three calendar days preceding the departure or that you have recovered from COVID in the past 90 days. I printed out the Passenger Attestation, checked the appropriate boxes, signed it and tucked it away in my travel folder with proof of my negative COVID test as well as my flight itinerary.
On travel day, I woke up and went downstairs for breakfast. I got ready earlier than normal because I didn't know what to expect as far as check out and rental car lines were concerned. The car return was quick and easy, so I ended up at the airline ticket counter far earlier than expected. I presented my passport, my negative COVID test result and my signed Passenger Attestation. They put the sticker on the back of my passport as well as the Passenger Attestation, and I was told to keep the Passenger Attestation with me until I got to the gate where it would be collected.
I checked my bags and headed to security, where I had no trouble. However, it was the first time a security agent wanted to inspect my beard…it was a little weird and really made me appreciate my TSA precheck. After security at the Frankfurt airport, I had to go back through a border check and show the officials my passport (if you are a citizen of the EU in the Schengen Zone, this is not required). This is where I hit a small snag.
I'm not sure if, in the confusion of my entry into Germany, the officials forgot to stamp my passport or if they didn't do so because of my LOA, but German officials didn't like that I didn't have a stamp. After I showed them all my paperwork, answered their questions about where I was and showed them my contractor ID, they were satisfied. I was allowed to pass, and I walked to my gate. I had about a two-hour wait until boarding because of my early departure from the hotel and short lines throughout the airport.
Once the airline called my row section, I was seated, and the counter agent asked for my Passenger Attestation with the sticker. The agent looked at my passport, scanned my ticket and waved me on the plane for my long ride home.
I landed in Atlanta where going through immigration and customs was smooth. During my four-hour layover, I made good use of the sky lounge. The second leg of my trip home felt like a short jump after the transatlantic flight. I finally landed in my home state late in the evening, and I was ready to hit the pillow as soon as I got home. It was a really long day.
It was good to be home, and I was going to be there for at least the next 10 days to quarantine. I'm pleased to report that I am now out of quarantine and experienced no COVID symptoms. I'm also pleased that the training in Germany went well. Despite some challenging and stressful times, we got it done.
I enjoyed my time in Germany and would love to go back and teach there again. I just hope to do that without navigating a global pandemic! I'd like to thank Josh Gerhart, who was my secondary instructor. He was there with me throughout this journey. He is an integral part of the team, and without the whole team, which includes the entire ONEIL training department, this adventure wouldn't have been possible.
This is Erik's final travel trilogy installment. We're thankful for his perspective, and we hope you've enjoyed reading about his unique travel experiences as he and the training team worked diligently to exceed client expectations.