ONEIL's "Exceptional Quality" recognized at Harris Supply Chain Conference

In case you missed it on Business Insider, we recently visited the Harris Technology Center in beautiful Palm Bay, Florida, where we were presented the "Exceptional Quality" Supplier Award during the Harris Supply Chain Conference. ONEIL Director of Operations, Erik Shelton, shared his thoughts on behalf of the team:
"We're pleased to receive Harris' "Exceptional Quality" Supplier Award, as we've prided ourselves on superior strategic partnerships and delivering world class quality to our customers for more than 70 years. This award is a clear indication of our continued commitment to excellence, to Harris, and to our nation's Warfighters."
As Harris' strategic partner in the U.S. Army's Modernization of Enterprise Terminals (MET) Program's Integrated Logistics Support and Products, we proudly develop Interactive Electronic Technical Manuals (IETMs) to support our troops with the mission-critical tools they depend on in the field. The IETMs we produce allow the user to easily interact with complex information- anytime, anywhere- when expedience and accuracy matter most.
It's easy to see why we're an authority in this domain: nearly 40% of our team has prior military experience and intimate understanding of the tools needed for mission readiness. Also easy to see: we're receiving a growing number of IETM requests from our customers.
The MET Program also announced ONEIL has maintained a zero-defect record with the Program since 2012, stating ONEIL "has been a great partner supporting a number of product lines over the years. Their continued support has allowed PdM WESS to provide quality technical documentation and training to the SATCOM Community at large. They have always been open to and willing to implement improvements when identified to improve support to the Warfighter."
Congrats on a job well done to each of the ONEIL team members who contributed to this effort and who continue to provide exceptional quality to our customers each day.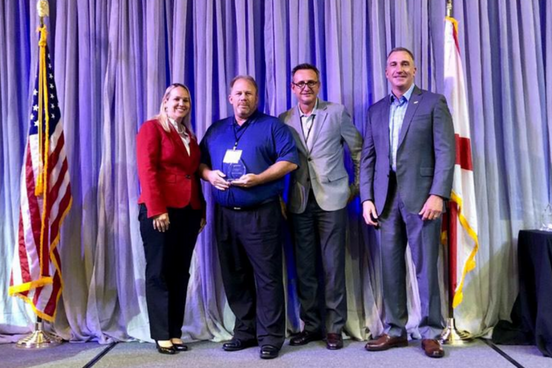 Pictured left to right: Electronic Systems Supply Chain Senior Director Carrie Eubanks, ONEIL Program Manager Mike Grammer, ONEIL Director of Operations Erik Shelton, Electronic Systems Vice President of Operations Robert Kirsch.